The Washington Summer Brewfest at scenic St.Edwards Park on Father's day weekend is the premier beer drinker event
for Washington state. Boasting 101 microbrews and now 3 days long, it was a great event for all that attended. It is also a family friendly event that not only tolerates children but encourages them to attend. Since beer is probably at least partially responsible for most of these kids, that is appropriate! Here are reviews of most of what we tasted and rated on a five star system, leaningtowards the hoppy ones!):
Snipes IPA: smooth, yet bitter, very well balanced with a very clean aftertaste. No IPA cottonmouth here!
****
Diamond Knot Industrial ESB: Malty, sweet, and totally unchugable. Kind of the Industrial IPA with 1/2 the hops.
***
Druid IPA: I am always happy to see new breweries at the fest and was very excited to try this IPA. Unfortunatley, it wasn't quite hoppy enough for me
to truly consider it an IPA. Very smooth and great flavor but I would call it a Pale.
as an IPA
**
as a Pale
***
Winthrop Brewing "Jim's Awesome IPA": Bad bitter! Very sour aftertaste. If Budweiser tried to make an IPA, this would be it! This was the worst IPA we tasted at the fest and one of the worst I have ever had!
*
Pacific Rim Brewing Co. Rat City IPA: dark and bitter with a short-lived aftertaste. Smooth and refreshing
***1/2
Hale's Imperial IPA: bitter smooth and creamy. Awesome! Tingles on the tongue with a long hop finish.
****
Skagit River Brewing Co. Sculler's IPA: Justin called this the nasal molestor! Extremely hoppy and great with pizza. Long lasting finish. Cool logo.
****
Elliot Bay Brewery Riot Ale: 8% alc. hoppy and smooth and finishes on the roof of your mouth. They classify this as PA,
I classify it as damn good and could be called an IPA just as easily.
****1/2
Elysian Brewing Co. Jasmine IPA: Funky sweet with after-hop but no major bitter taste. Good floral aroma. Very unique!
***1/2
Stone Ruination IPA: (For some reason Stone was left off the guide, we guess it was because the decided to attend too late.
It definitely didn't hurt people finding them as they had the biggest line as usual and ran out of Arrogant Bastard early Sunday.)
Hop kick on the way in and smooth going down, this IPA is a sensory overload! Excellent! These guys are from San Diego?
****1/2
Boundry Bay Brewing Co. Simcoe Pale Ale: Amazingly complex! Totally fruity intro with a great bitter aftertaste. This could be
an IPA.
****
Maritime Pacific Brewing Co. Imperial IPA: Smooth hoppy finish
***1/2
North Coast Brewing Co. Red Seal Ale: smooth and creamy, well balanced and very nice.
***1/2
Bear Creek Brewing Co. ESB: Well balanced, hoppy and malty with a long finish.
****
Scuttlebutt Brewing Co. Tripel 7: at almost 9%alc you would never guess it by the smooth taste. This is an amazingly smooth, clean and tasty beer that could easily get you in big trouble! Very well balanced.
****
Hood Canal Brewery Dabob Bay IPA: Malty and bitter with a sweet hop finish. Not a typical IPA.
***
<![if !supportEmptyParas]> <![endif]>
We will mention that we are happy to see Hales bottling its Mongoose IPA.  We first tasted Mongoose at the Summer Brew Fest at St. Edwards Park two years ago but only within the last few months seen it in stores.  It is a very hoppy dry hopped IPA very worthy of recognition and one of the better IPAs to be found in a bottle.  The citrusy bitter hops will leave you wanting more and this ale goes great with all kinds of spicy foods.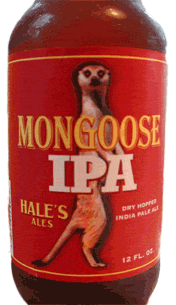 <![if !supportEmptyParas]> <![endif]>
One other thing we would like to mention is the new labels on the Deschutes bottles.  Still the same great beer but just a little tweaking to the graphics with a little more color.  No complaints here.
<![if !supportEmptyParas]> <![endif]>
If you know of a new beer you think we should try or would like to tell us about one that you tried…please drop us an e-mail.   
<![if !supportEmptyParas]> <![endif]>